Lewis Marine Supply is very excited to now offer Super Lube brand products. Here are a few of the Super Lube products now available.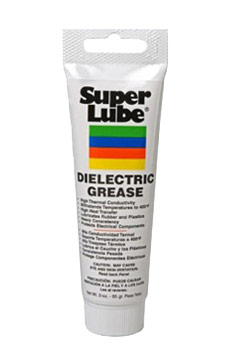 Super Lube Silicone Dielectric Grease is a specially formulated non-curing silicone compound that seals, protects, and insulates electrical components and connectors. It is waterproof and provides a barrier against moisture and other contaminants in many types of electrical contact points.
Super Lube Multi Purpose Synthetic Grease ( 21030 ) is a patented synthetic, multi-purpose lubricant with Syncolon (PTFE). Synthetic base fluids and the addition of PTFE micro powders combine to form a premium lubricant that provides protection against friction, wear, rust and corrosion over a temperature range of -45°F to +450°F. It's a grease that doesn't drip, run or evaporate.
Super Lube Multi Purpose Synthetic Lubricant (31110) is a synthetic, heavy duty multi-purpose aerosol. Super Lube aerosol disperses and penetrates while lubricating and loosening rust and dirt. Super Lube aerosol offers continuous protection as it sets up and forms a grease film barrier that protects against oxidation. This barrier helps extend the life of your equipment and reduces maintenance.
Don't see the Super Lube product you're looking for? Just give us a call and a marine specialist will be happy to assist you.
Super Lube
Designed for an endless array of applications Super Lube® Synthetic Grease and Oil Lubricants, from Synco Chemical Corporation, work harder and last longer to meet today's most demanding requirements. As technology progresses, lubricants are subjected to greater extremes in operating speeds along with wider temperature ranges. This increases the need for lubricants which can provide long life protection against friction, wear, rust and corrosion. Keeping pace with this technological progress, Super Lube® synthetic lubricants succeed where conventional products fail. The result is a full line of products that increase productivity, decrease downtime and extend the life of your machinery while providing cost-effective and trouble free maintenance.
With a full range of features and benefits, Super Lube® products are the single source solution for a broad spectrum of lubrication applications. The choice for ultimate protection is clear.
About Lewis Marine Supply
Lewis Marine Supply is a worldwide marine distributor offering a broad range of quality boating products. We provide fast and reliable nationwide delivery and global export services. Working with over 400 manufacturers, we source over 30,000 products to our customers in the marine industry. We are based in Fort Lauderdale with stores in Charleston, SC and Foley, AL.
https://www.lewismarine.com/wp-content/uploads/super-lube-grease.jpg
300
300
wpadminlms
https://www.lewismarine.com/wp-content/uploads/logo-main.gif
wpadminlms
2021-04-23 09:00:18
2022-05-25 18:52:42
Rust and Corrosion Have Met Their Match with Super Lube Greases