Boaters are required to have safety equipment by the U.S. Coast Guard for all Vessels. For personal watercraft, for example, a small kit for treating minor cuts and scrapes is probably adequate. For boating farther from shore, a more elaborate marine safety kit may be needed.
Having a proper marine First-Aid Kit on board can help you render immediate emergency care, and sometimes even save a life. It's one of the safety-related items that Coast Guard Auxiliary and United States Power Squadrons® vessel examiners discuss when conducting an annual Vessel Safety Check (VSC) on recreational boats.
Make sure before you cast off that your marine emergency safety equipment is up-to-date and meets todays regulations. Just remember… it's better to be safe then sorry. Be prepared!
What are some safety kit items that you are required to carry on board?
Personal Flotation Devices
Fire Extinguishers
Visual Distress Signals
Sound Producing Devices
Marine Sanitation Devices
Pollution Regulation Placards
The general scale for boat classifications is as follows:
Vessels less than 16 feet
Vessels 16 – 26 feet
Vessels 26 – 40 feet
Vessels 40 – 65 feet
The Rest of the Gear We Recommend
The above list will satisfy the minimum requirements for operating your boat, but there are other safety products that have proven their worth in the event something happens on the water. While these products will require a little more investment on your part, they are an investment in the safety of yourself and others on your boat. At Lewis Marine Supply, we are committed to making life on the water as fulfilling and enjoyable as possible and having the right safety gear is part of that.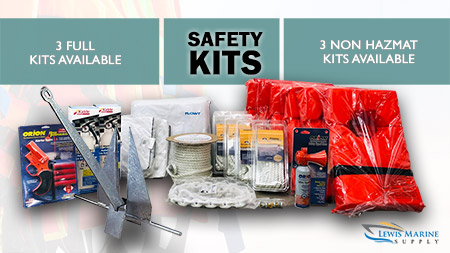 Now in stock: Fig# 5002
Lewis Marine Supply
Lewis Marine Supply opened for business in 1956 with a goal of providing marine parts and supplies with exceptional customer service. Our catalog highlights over 15,000 parts from over 300 manufacturers so we can support our customers all around the world.
We'd love to know what you think of this product! If you would like more information about this topic, or any other marine parts, please contact Lewis Marine Supply at: (800) 327-3792 or email us at: talktous@lewismarine.com
https://www.lewismarine.com/wp-content/uploads/logo-main.gif
0
0
wpadminlms
https://www.lewismarine.com/wp-content/uploads/logo-main.gif
wpadminlms
2019-09-04 09:00:59
2019-09-12 15:26:18
Is Your Emergency Safety Kit Ready To Keep You Safe?