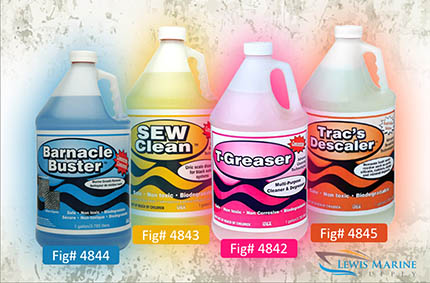 Lewis Marine Supply is excited to offer Trac Ecological cleaning supplies that are specifically formulated to meet an industry wide need for fast, safe, cost effective alternatives to mechanical cleaning of seawater cooled marine equipment.
T-Greaser
This multipurpose, pleasant smelling, concentrated marine cleaner and degreaser is formulated to be safe for most marine applications. TRAC's ecological T-greaser is solvent free, antibacterial, nontoxic, and noncorrosive. Apply, and watch the toughest stains dissolve and leave no residue behind. Provides rapid removal of oils, greases, grime, soap scum, mildew stains, sludge bottoms, fats, synthetic lubes, preservative coatings, rubber tire marks, inks, pigments, and much more from your boat or yacht. 100% biodegradable boat cleaner.
Trac's Descaler
This marine cleaner concentrate is a safe, also biodegradable, scale remover designed to dissolve fresh water scale which forms a rock-like build up inside of fresh water cooled marine equipment. These scale deposits in your marine equipment's cooling system which should dramatically reduce heat transfer rate.
Sew Clean
Do you need to remove uric scale from your black water system? Formulated to target uric scale and clean sewage systems from toilet to tank, this proven solution will dissolve buildup which causes plumbing to overflow and create nasty odors on board. Simply add one quart of Sew Clean® per head, let it sit for 12 hours, rinse, and the system is clean. Sew Clean® is a black water system cleaner, not a sewage treatment chemical. Non-corrosive to all metals, plastics, gaskets and other materials commonly found in black water systems. 100% biodegradable remover.
Can be used to remove growth from:
A/C & refrigeration cooling systems
Engines seawater cooling systems
Black water systems
Marine equipment
Now in stock: Fig# 4844, 4855, 4843, 4842
Lewis Marine Supply opened for business in 1956 with a goal of providing marine parts and supplies with exceptional customer service. Our catalog highlights over 15,000 parts from over 300 manufacturers so we can support our customers all around the world.
We'd love to know what you think of this product! If you would like more information about this topic, or any other marine parts, please contact Lewis Marine Supply at: (800) 327-3792 or email us at: talktous@lewismarine.com
https://www.lewismarine.com/wp-content/uploads/logo-main.gif
0
0
wpadminlms
https://www.lewismarine.com/wp-content/uploads/logo-main.gif
wpadminlms
2019-08-14 09:00:58
2019-09-12 15:31:56
Cleaning and Removing Marine Growth Just Got Easier